Here are some advanced searching techniques for 100LL.com.
Internet Explorer 7 and Mozilla Firefox Users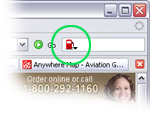 Find Nearby Fuel Prices
When flight planning, you can see a list of fuel prices within 100 miles of an FBO. Just search for an FBO and click through to the FBO information screen. Next, click on the "More Nearby Prices" button. This will bring up a listing of FBO's within a 100 mile radius containing current fuel prices, distances and the date published.
Choosing search terms
Choosing the right search terms is the key to finding the fuel price information you need.
Start with the obvious–if you're looking for an FBO in Kansas, search for KS.
But it's often advisable to use multiple search terms; if you're planning a trip to Pittsburg, Kansas, you'll do better with Pittsburg KS than with either Pittsburg or KS by themselves.
Capitalization
100LL.com searches are NOT case sensitive. All letters, regardless of how you type them, will be understood as lower case. For example, searches for Pittsburg KS, pittsburg KS, and PiTtSbUrG kS will all return the same results.
Automatic "and" queries
By default, 100LL.com only returns pages that include all of your search terms. There is no need to include "+" before terms. To restrict a search further, just include more terms. For example, to find a Million Air in St Louis, simply type Million Air St Louis.
Automatic exclusion of common words
100LL.com ignores common words and characters such as "the" and "it", as well as anything smaller than 3 letters, because they tend to slow down your search without improving the results.
Phrase searches
Sometimes you'll only want results that include an exact phrase. In this case, simply put quotation marks around your search terms.
Phrase searches are particularly effective if you're searching for names ("Million Air").
Negative terms
If your search term has more than one meaning (Kansas City, for example, could refer to Kansas the state, or Kansas City the city) you can focus your search by putting a minus sign ("-") in front of words related to the meaning you want to avoid.
Note: when you include a negative term in your search, be sure to include a space before the minus sign or else it will be separated into two separate words.